May Steinkrauss – President

A native of the Pacific Northwest, May found her way to the Boston area about 15 years ago. After a few years in the city and abroad, May and her husband Matt moved to Needham in 2013. They are the proud parents of 3 boys (Mark (2013), Tom (2015) and Luke (2018). She loves the Needham community and can often be seen in town or on playgrounds wrangling her wonderful sons. May recently put a career in accounting on hold so she could focus on family and activities she places closer to her heart. With her accounting (CPA) and organization skills gained from 13 years of experience including 10+ in public accounting, she hopes she can add value to the Parent Talk community by delivering seamless treasury activities, so all can focus on the core mission statement of Parent Talk. Working with Parent Talk will also keep May's skills sharp while doing something close to her heart, supporting a group that has been a great resource to her while navigating life in Needham and a growing family.
Laura Garabedian – Vice President
Laura Garabedian and her husband, Berj, moved to Needham (from Newton) in summer 2017 with their two boys, Tommy (born 2013) and Will (born 2016). She joined ParentTalk the month they moved and the organization was instrumental in helping her family become active members of the community. Laura joined the ParentTalk Board to give back to the organization and develop friendships with other parents in Needham.
Laura grew up in Hopkinton, MA. After attending college at Boston University, she received a Master in Public Health from Tufts and a PhD from Harvard. She is an Assistant Professor of Population Medicine at Harvard Medical School and Harvard Pilgrim Health Care Institute. Laura loves running and hiking and she will be competing in her first triathlon this summer. You will frequently see her around town with an orange double stroller.
KumRae Lee – Chair, Affinity Groups
KumRae moved to Needham in 2017 with her husband, John, and their two children, Simon (2012) and Hannah (2015), from Westchester, NY. Prior to becoming a stay at home parent, KumRae spent her career in corporate human resources, specializing in executive compensation and Human Capital Management systems. Originally from Minnesota, KumRae lived (mostly) in the New York City metro after completing her Master in Industrial and Labor Relations from Cornell University. KumRae joined Parent Talk upon arrival in Needham and found it to be a great resource for facilitating the transition to a new community. After assisting with preschool outreach for several Used Clothing, Toy & Equipment Sales and Flicks on the Field, KumRae was excited to join the Board and continue to work closely with such an amazing group of people.
Kaitlin Fetzer  – Co-Chair, Fundraising

After many years of living in the city, Kaitlin and her family decided to make the move to the suburbs to accommodate the needs of their growing family. They were drawn to community feel that Needham offered and were eager to build a life there. Kaitlin lives with her husband, Tyson, and their son, Nolan (born in May 2018). They are expecting another boy in November! Upon moving to Needham, Kaitlin joined Parent Talk to help build connections within the community. Kaitlin grew up in Weston, MA and attended college at Villanova University. She attended graduate school at Simmons College to earn her masters degree in teaching. Currently she is a fifth grade teacher in Newton. She loves to cook and bake, travel and to try new things!
Diana Orenstein – Chair, Membership
Diana Orenstein grew up in Pennsylvania, but fell in love with Boston when she attended Tufts University for her undergraduate degree. After completing graduate school in Philadelphia and a brief stop in Connecticut, she and her husband moved back to the greater Boston area and decided to settle in Needham permanently. Trained as a registered dietitian nutritionist, Diana worked first at Newton Wellesley Hospital before opening her own private practice where she specializes in women's health. She currently works part time at her practice, and spends the rest of her time with her two children (ages 2 years and 6 months). In addition to a Master's degree in nutrition, Diana also holds a Master's degree in education. Diana has been active as a volunteer in multiple organizations and not-for-profit groups in the past, particularly focusing on the areas of healthcare and food access. Additionally, she served three years on the board of a literacy program and carnival. Since moving to Needham, she has volunteered at the Parent Talk sale and the Flicks in the Field planning committee.
Elizabeth Klucznik – Co-Chair, Member Events
Liz, a Greater Boston native, moved to Needham in 2014 with her husband Chris and then three-month old son, James (2014). At the suggestion of her realtor, Liz joined Parent Talk shortly after moving to town. Four years later, she still meets with James's original playgroup, now with his brother Benjamin (2016) in tow! Liz and her boys have steadily become more involved in various Parent Talk activities in the community and Liz has served as a member of the Sales Committee. After graduating from Stonehill College, she spent 10+ years in public accounting serving a variety of clients including many not-for-profit organizations of various sizes in the Northeast. Liz is an avid runner and can often be seen doing preschool drop-off with the double stroller, as well as enjoying outdoor activities with her family.
Carolyn Day Reulbach – Co-Chair, Marketing
Carolyn is a Director at Needham Children's Center where she is so happy to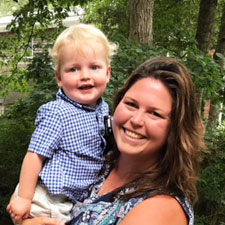 have her son as a member of the same nurturing community she grew up in herself. She graduated from Colby- Sawyer College with a degree in Childhood Development and Psychology. Somehow she always knew she would end up working with children and is excited to have landed back where it all began for her at NCC! Carolyn and her husband Kevin both grew up in Needham and currently live here in town with their two year old son James! She has been an active member of Parent Talk for a few years, and is thrilled to join such a wonderful organization filled with great families and programs.