There's nothing more stressful for a parent than a tough play date. Which is your favorite thing to worry about: Is my kid going to share? Is my kid going to actually interact with the other kid? Will there be a tantrum, or worse, a punch thrown, a shove, a bite? Will my child run around and steal toys from the others just to keep them from playing with those things? What if the other kid touches my child's precious Thomas pillow or McQueen Monster Truck?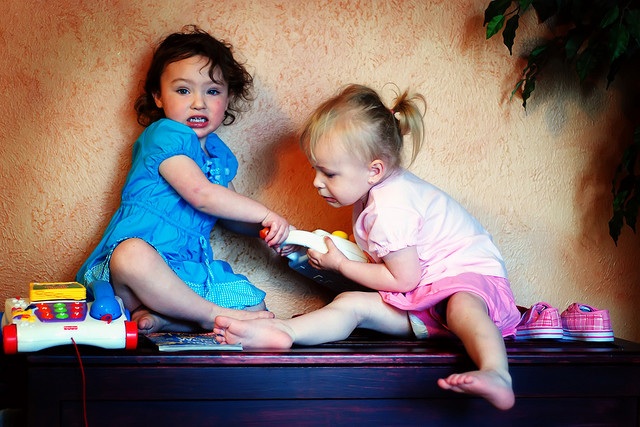 www.vaughanmoms.ca
The experts tell us that our kids learn appropriate social behavior through playing with others, but how do we get them to play in a way that will teach them useful skills? Surprisingly, the answer may be to become the best, most present playmates that we can be to our kids, by being attentive to how they play and by modeling play strategies that help our kids to learn useful social skills.
At Needham's own Temple Beth Shalom Children's Center preschool, the faculty have been engaged in learning and applying a program called "Social Thinking" that aims to do just that: teach kids to play in a way that helps them to work well with others and learn about the world. The program is designed to teach kids to think about their own feelings and thoughts in the context of the greater social group. They learn that while they may have their own individual plan for themselves, there is a group plan as well that they may fit into or clash with. Using this paradigm as a foundation, the TBS faculty is teaching kids to strategize how they play with each other and individually so as not to disrupt a group plan that is for the greater, collective good. For example, it will be necessary to ask friends if it is okay to smash the tower they just built before doing so, in order to understand the group plan.
The strategies taught through "Social Thinking" are equally as valuable for parents as they are for teachers. It is a program that works just as well to teach kids how to play well at home, on play dates, and in any situation getting along with others.
Join us on Wednesday, January 14th
, at Temple Beth Shalom in Needham, for a discussion led by Sherry Grossman and Amy Freedman on the Social Thinking program and age-appropriate play strategies. Reception/registration beginning at 6:30pm, lecture to follow from 7:00 to 8:30 pm. Sherry and Amy are early education experts at Gateways: Access to Jewish Education in Newton, MA, who between them have almost 70 years of early childhood education experience. They have been working with the TBS faculty in their application of the Social Thinking program to their curriculum. By applying the precepts of Social Thinking to smart developmentally-appropriate play strategies, teacher trainers Sherry Grossman and Amy Freedman hope to show parents how they, too, can teach their kids to play and work well with others. TBS faculty members will also be available to add dimension from a classroom perspective.
Amy Freedman
Sherry Grossman